Vision is the beginning of all creation. If you can create the vision in your thoughts we can manifest it in reality.

Communication is the means to any connection. Once the client communicates their vision the creative process has been shared and we are now co-creating. With your vision and our skill the pieces of the puzzle begin to fit together. At this stage we may tackle questions like, What is your goal? What do you want people to feel and think when they see the final product? What is the need for this design piece?
With the visuals explained and sketched our design team starts to work on the project. Using methods like Intuitive Design where we FEEL what the customer is desiring out of the project and instinctively choose color, typeface, graphic or photography along with direction from the client to complete the project. We will research the industry in which the project is being applied. When researching we take time to peak at competitors and how they approach the design.

Once the vision has come to life we deliver the final product(s) to the client. We strive to deliver a comprehensive design even in proofing stages so that our concept is fully illustrated and a complete idea is delivered.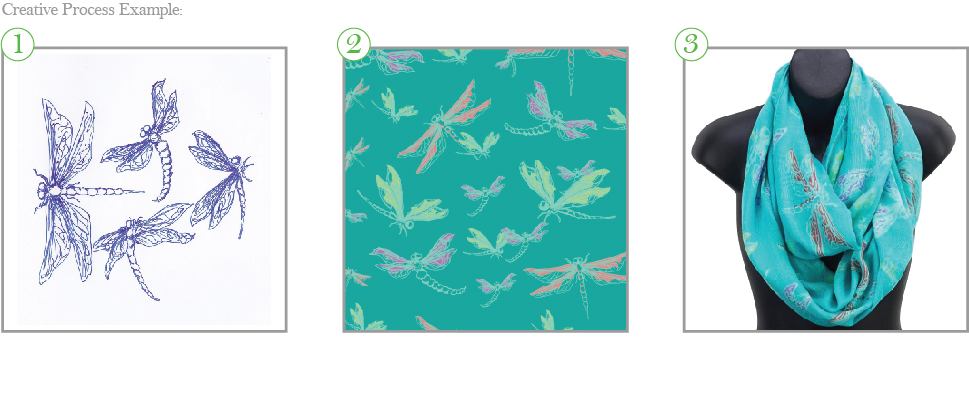 In image 1: The direction from the client (their vision) was a scarf for the new age market with an emphasis on metaphysical themes. Dragonflies are a popular icon which is meant to signify spirituality and rebirth. With that direction we sketched the motif.
Image 2: This is the graphic pattern after the sketching was complete it was uploaded and colorized. With the target market in mind, we wanted an ethereal essence so the colors we picked would reflect that. This graphic was approved by the customer after several rounds revising and communication. The pattern was then sent to be printed.
In image 3: We see the final scarf.